Since 1983 The Fishery has been a family owned Louisville staple, serving top quality food, fast, fresh, and hot!
Co-Owners Matt Clark and Carol Clark-Kassai are native Louisvillians. You can usually find Matt and Carol at The Fishery, so please stop by and let them know how they can help with your next Fishery experience.
We are known for having "The Best Fish Sandwich, in Louisville". Some of our other well known and loved dishes are our, Fried chicken strips, Pan fried oysters, Crab cake sandwiches, and various home made soups.
We take pride in the food we prepare, and the service we provide, which includes being Covid friendly.
We do everything we can to make sure both staff and patrons are safe in these Covid times.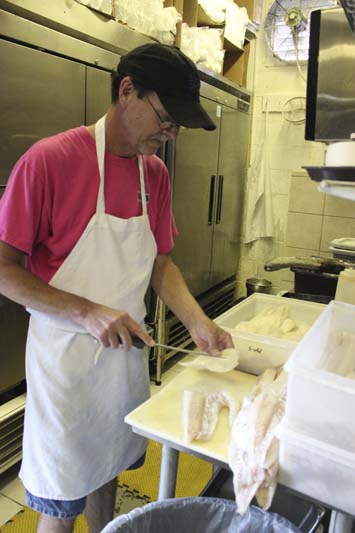 Need Catering?
If you need catering for 15 or more people please contact Matt, Carol or Chrissy at
Fresh Ingredients, Tasty Meals
Please feel free to browse our menu! Also, don't forget to stop by and check out "The best fish sandwich in Louisville"
What others are saying about The Fishery


"Readers choice & critics pick Best in Louisville award for 1992 & 2010."

"The fried fish sandwich reigns supreme at this local favorite. "

"An area classic, the Fishery has been nominated for the Best in Louisville award multiple times and has become a local seafood tradition."

"Best Fish Sandwich runner up for 2011 Readers Choice.
We are located in the heart of St. Mathews
Address: 3624 Lexington Rd,
Louisville, KY 40207
Phone: (502) 895-1188
Hours: Wed-Sun 11am-8pm
Closed Mon & Tues